April 2019
| Sun | Mon | Tue | Wed | Thu | Fri | Sat |
| --- | --- | --- | --- | --- | --- | --- |
| | 1 | 2 | 3 | 4 | 5 | 6 |
| 7 | 8 | 9 | 10 | 11 | 12 | 13 |
| 14 | 15 | 16 | 17 | 18 | 19 | 20 |
| 21 | 22 | 23 | 24 | 25 | 26 | 27 |
| 28 | 29 | 30 | | | | |
Calendar


_____________________________
Basic
_____________________________
Name: Maiko Bee Clifton
Alias: Maik, although only her close friends call her this.
Age: Two years and three months.
Gender: Female.
Rank: Tracker.
Sexual Orientation: Pansexual.
_____________________________
Physical
_____________________________
Coat: From a distance, Maiko's coat appears to be a solid black, although upon further inspection, the tips of most of her individual furs are a rich, chocolate-brown color. There are also several faint patches of gray on her neck.
Build: Maiko's physique is of a muscular, streamlined one. She isn't exactly lanky, nor is she bulky. She's thin, built for endurance and running, and while she can hold her own in a fight, close combat isn't exactly one of her strong points.
Optical: Maiko's eyes are of a bright, light-gold color, which stands out from the rest of her dark, muted coat.
_____________________________
Mental
_____________________________
Persona: Maiko's personality is quite complex. On the outside, she appears to be an outgoing, rowdy-type wolf who's up for anything. She's fairly hot-headed and won't hesitate to snap or cause an argument, but that's just how she is. Some might even say she's aggressive, and while that may be true, she isn't exactly the 'scary' type of aggressive, more just... the irritable type. Now, not many people know – in fact, she's not even aware of it herself – although she's actually quite intuitive and receptive of other's feelings. She can clearly read the atmosphere of a room, and can even be quite manipulative, in her own subtle way, although she generally doesn't manipulate others to get what she wants. In fact, she rarely ever manipulates others, considering the fact that she feels disgusted with herself whenever she does so.
Past: Maiko's past was fairly normal. Her father was a strong, battle-hungry wolf by the name of Romulus, and her mother – just as battle-hungry as her father – was named Coralie. She was in a small litter of two, and her older sister was named Wynn.  Since she was the younger of the two, she was obviously the weaker, and her parents and everyone else in her pack valued strength over anything, and Maiko had understood this for as long as she could remember. She always worked on her strength, and her parents commended her for her hard work, although she was always in the shadow of her Wynn. Maiko didn't particularly care though. She knew that she would someday have to fend for herself, and so she gained her independence fairly early. Other than that, she had a normal childhood, went on to disperse and has now found herself in Riadven territory.
Likes: Exploring, rough-housing, warm weather.
Dislikes: Swimming, large bodies of water, boredom
_____________________________
Relations
_____________________________
Kin:
Romulus|Father|Unknown
Coralie|Mother|Unknown
Wynn|Older Sister|Unknown
Offspring: None
Friendships: None, as of now.
Lover: None
Portrait:
Last edited by Maiko on Fri Jul 04, 2014 2:08 am; edited 2 times in total



Posts

: 151


Join date

: 2014-06-17


Location

: badass

Character sheet
Name: Topaz
Gender: Female
Rank: Healer


She's so cute! Love her<3
_________________
●
DEVIANTART
●
WOLFQUEST
●
FERALHEART
●
"Believe that life is worth living and your belief
will help create the fact." -William James
Head Admin




Posts

: 1026


Join date

: 2014-03-20


Location

: Long gone... contactable on FeralHeart and my DeviantART account (@Kikiorylandia)

Character sheet
Name: Maverick
Gender: Male
Rank: Alpha Male


HNNG I've been waiting on her.
I love her. She is so adorbs<3
Nice! She's certainly an interesting wolf :)
Good job, Cass Maiko! I already love her cx



Posts

: 1040


Join date

: 2014-04-25


Age

: 20

Character sheet
Name: Shadow
Gender: Brute
Rank: Loner


Oooh, interesting character, Cass! Can't wait to meet her in rp when I get back home. c:
_________________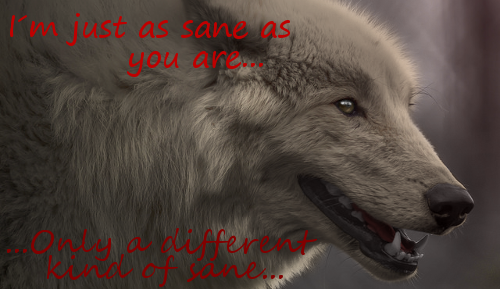 Avatar by me



Posts

: 1511


Join date

: 2014-03-23


Age

: 22

Character sheet
Name: Jeamesero
Gender: Male
Rank: Tracker/Crazy Suggestion Bomber!





Posts

: 151


Join date

: 2014-06-17


Location

: badass

Character sheet
Name: Topaz
Gender: Female
Rank: Healer


I HAVE A BELATED WELCOME FOR YOU.
You're bio is gorgeous, iloveyou.
Welcome to the pack ^^
Admin




Posts

: 763


Join date

: 2014-06-14


Age

: 20


Location

: Spearheading the Rebellion with my soulmate ;3

Character sheet
Name: Verine bb ;3
Gender: Femme.
Rank: Warrior o3o


You're bio and wolf are absolutely gorgeous wow welcome to the pack!! /late/
_________________



Posts

: 197


Join date

: 2014-05-28


Age

: 22


Location

: The Netherlands

Character sheet
Name: Shun
Gender: Male
Rank: Nanny





Posts

: 151


Join date

: 2014-06-17


Location

: badass

Character sheet
Name: Topaz
Gender: Female
Rank: Healer



---
Permissions in this forum:
You
cannot
reply to topics in this forum