April 2019
| Sun | Mon | Tue | Wed | Thu | Fri | Sat |
| --- | --- | --- | --- | --- | --- | --- |
| | 1 | 2 | 3 | 4 | 5 | 6 |
| 7 | 8 | 9 | 10 | 11 | 12 | 13 |
| 14 | 15 | 16 | 17 | 18 | 19 | 20 |
| 21 | 22 | 23 | 24 | 25 | 26 | 27 |
| 28 | 29 | 30 | | | | |
Calendar


I'm gonna try to sum up what's happened in the past two months~

Member News
If you haven't noticed already, I'm back! :D The pack is still continuing to grow, and I'm still very proud of that fact ^^ We have lost a few members in the past two months, and I'm sure we're all sad to see them go

Roleplay News
Hati, Hatsune and Shadow are now dead (or close to dying), thanks to Jeames' inner monster mode. Romance is growing between Duke and Deya, and Verine and Cassiel are now mates!

For those of you who were participating in the rp event, I'm afraid the ending of it will be canceled. I'll make up some sort of happy ending with the death of the hunters and dog and send the wolves back to the den in rp c:

Site/Contest News
As you may have noticed, I added a new usergroup; "Dead Accounts". Any member who leaves the pack will be placed there as well as unwanted second accounts, etc. Also, I've noticed many of the ranks starting to get really full. So, I'm making a new rank; guard!

Other News
Unfortunately, Jeames has decided to step down from her beta rank. Sooo... keep your eyes open for more promotions in the future ;3

That's it for the news ^^ My apologies for it being so vague, still trying to catch up on things myself~
_________________
●
DEVIANTART
●
WOLFQUEST
●
FERALHEART
●
"Believe that life is worth living and your belief
will help create the fact." -William James
Head Admin




Posts

: 1026


Join date

: 2014-03-20


Location

: Long gone... contactable on FeralHeart and my DeviantART account (@Kikiorylandia)

Character sheet
Name: Maverick
Gender: Male
Rank: Alpha Male


1. WELCOME ALL NEW MEMBERS

2. THE NEW CHARRIES ARE SWAGGIE, AS IS THE NEW ROMANCE

3. I AM SUPER PUMPED ABOUT THE GUARDIAN RANK I THINK ONE OF THE CASSERINE PUPPIES WOULD SUIT THAT PERFECTLY

4. Nooo, Jeames ;-;. I'll miss seeing you with that yellow name<33
Google Master




Posts

: 513


Join date

: 2014-05-04


Location

: Kickstarting the rebellion against black licorice ._.

Character sheet
Name: Cassiel
Gender: Male
Rank: Beta Male


I AGREE IN EVERYTHING WHAT CASS SAYS. :D

As for me stepping down, yeah, it's a shame... It was hard for me to do but with as real life is now I can't keep it up. So I will just be an ordinairy/regular member again.
_________________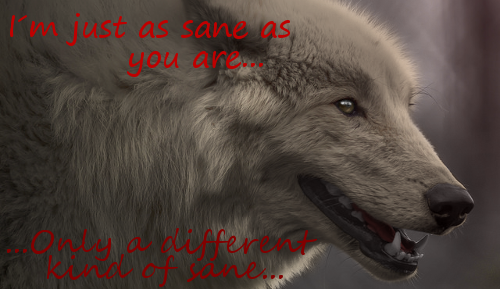 Avatar by me



Posts

: 1511


Join date

: 2014-03-23


Age

: 22

Character sheet
Name: Jeamesero
Gender: Male
Rank: Tracker/Crazy Suggestion Bomber!


Ayayay a new rank :D
And that's a real shame Jeames! You'll still be my beta (cos i luv u <33)



Posts

: 1040


Join date

: 2014-04-25


Age

: 20

Character sheet
Name: Shadow
Gender: Brute
Rank: Loner




Similar topics
---
Permissions in this forum:
You
cannot
reply to topics in this forum