April 2019
| Sun | Mon | Tue | Wed | Thu | Fri | Sat |
| --- | --- | --- | --- | --- | --- | --- |
| | 1 | 2 | 3 | 4 | 5 | 6 |
| 7 | 8 | 9 | 10 | 11 | 12 | 13 |
| 14 | 15 | 16 | 17 | 18 | 19 | 20 |
| 21 | 22 | 23 | 24 | 25 | 26 | 27 |
| 28 | 29 | 30 | | | | |
Calendar


BASIC INFORMS
NAMED fairly as Wjinry Decker
BLESSED with the sex of female
NICKNAMED Winner, Win, Winnie
LASTED Two years and six months
EYES ON Males and Females, Bisexual.
ORIGIN from Germany, But has been in Montana since she was a pup.
HOLDS THE RANK OF Tracker
CHAINED TO THE PACK KNOWN AS The Riadven Pack.



APPEARANCE

As you can see from her avvie, She looks like that. No shit Sherlock omg you're such a great detective Her frame is small, yet her fur is fluffy, Making her seem bigger. Her teeth are sharp and can give some deep gashes, along with long legs and a lean torso, Making her very skilled in agility. Her nose is prim and perfect, and her eyes are a mix of green and yellowish gold. A rather purty color, If you ask me. Her ears and sharp and pricked perfectly, hearing the sounds of almost anything.



PERSONALITY


Wjinry is a loner. She isn't used to having much contact with other wolves, so she tries to be as open as possible. She's reckless and daring, and will often like to pick a fight or spar at least. She's very friendly other than that, So yah. She's extremely sensitive and likes to approach others, only because she's young and ready for an adventure. She's a prancer, often in her world, deep in thought whilst running through the trees. She's just young.

- Persona WIP -



HISTORICS


Wjinry originally was born in Germany. How the hell did she haul ass over to Montana, Then? I'll tell you the story, calm yourself.

A small pup wriggled out torwards the scent of her mother. She wriggled and whined, hungry yet too lazy to work so hard to get the food. The father chuckled and stared, amused at the oddness of the two siblings. He picked the small, greyish saddleback colored wolf up and plunked her lightly next to her mother, Quin. The mother sighed in pain as the pup arrogantly latched on. The father, Whistler, Nudged her softly. "We...Need to name them." The Swedish wolf huffed softly to his mate and traced his nose down her nape, almost as if soothing her. "Wjinry, For the girl." She tiredly replied. "You name the boy....." The german female drifted off into a sleep, exhausted. "Noir. Little Wjinry and Big Noir." He coddled them lovingly, Protectivley guarding his mate and children.
- Two Months Later -
Wjinry awoke to the sound of her brother making and loud thump. She tiredly growled at him, hitting him in the back with her paw. He was always awake, the damn earlybird. He gave a whine, shoving her hard. After a very deep moment of wrestling, Noir immediatly stopped. He was staring at the entrance in horror, near to tears. He ran out, blinded by his blurry tears.

- Ugh too lazy I'll continue this later -
Last edited by Wjinry on Sat Sep 06, 2014 11:45 pm; edited 1 time in total
_________________
Plural for moose is meese.



Posts

: 37


Join date

: 2014-09-06


Location

: blobland

Character sheet
Name: Wjinry
Gender: Female
Rank: Tracker


_________________
●
DEVIANTART
●
WOLFQUEST
●
FERALHEART
●
"Believe that life is worth living and your belief
will help create the fact." -William James
Head Admin




Posts

: 1026


Join date

: 2014-03-20


Location

: Long gone... contactable on FeralHeart and my DeviantART account (@Kikiorylandia)

Character sheet
Name: Maverick
Gender: Male
Rank: Alpha Male


Maverick wrote:Sexyyyyy
You kno it mae
_________________
Plural for moose is meese.



Posts

: 37


Join date

: 2014-09-06


Location

: blobland

Character sheet
Name: Wjinry
Gender: Female
Rank: Tracker


Welcome to the pack! You! You! C:
_________________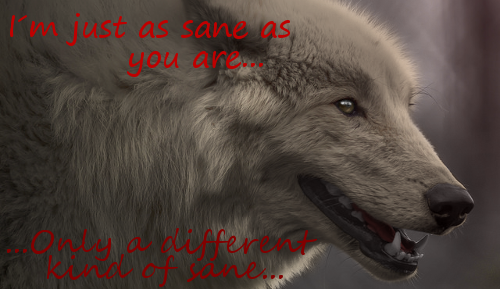 Avatar by me



Posts

: 1511


Join date

: 2014-03-23


Age

: 22

Character sheet
Name: Jeamesero
Gender: Male
Rank: Tracker/Crazy Suggestion Bomber!


It's North again.

And again.

And Again.
_________________
Plural for moose is meese.



Posts

: 37


Join date

: 2014-09-06


Location

: blobland

Character sheet
Name: Wjinry
Gender: Female
Rank: Tracker


Wonderful bio lové ^^ Carter will get along with her
Heyyyy hurhurhur loving the bio :3



Posts

: 447


Join date

: 2014-06-16


Age

: 21


Location

: SUR LA LUNE

Character sheet
Name: Deyanira
Gender: Female
Rank: Warrior



---
Permissions in this forum:
You
cannot
reply to topics in this forum