April 2019
| Sun | Mon | Tue | Wed | Thu | Fri | Sat |
| --- | --- | --- | --- | --- | --- | --- |
| | 1 | 2 | 3 | 4 | 5 | 6 |
| 7 | 8 | 9 | 10 | 11 | 12 | 13 |
| 14 | 15 | 16 | 17 | 18 | 19 | 20 |
| 21 | 22 | 23 | 24 | 25 | 26 | 27 |
| 28 | 29 | 30 | | | | |
Calendar


Just as the title says xD

But seriously... I hop on here and see only three names that have been online in the last 24 hours. This pack has obviously been going downhill for the last few weeks, and I'd hate for it to die! I love all of you too much<3

If any of you have any suggestions as to what you think would get people logging in, post them below. I may start removing people from the pack soon.

And yes, I know I haven't been that active myself lately, but I'll try to change that, honest.

Who knows, sometime later this year I might retake the full leadership of this pack...
_________________
●
DEVIANTART
●
WOLFQUEST
●
FERALHEART
●
"Believe that life is worth living and your belief
will help create the fact." -William James
Head Admin




Posts

: 1026


Join date

: 2014-03-20


Location

: Long gone... contactable on FeralHeart and my DeviantART account (@Kikiorylandia)

Character sheet
Name: Maverick
Gender: Male
Rank: Alpha Male


THAT'D BE SO GREAT MAVE. WE'D LOVE TO HAVE YOU BACK FULL TIME<3
Admin




Posts

: 763


Join date

: 2014-06-14


Age

: 20


Location

: Spearheading the Rebellion with my soulmate ;3

Character sheet
Name: Verine bb ;3
Gender: Femme.
Rank: Warrior o3o


OMGOMGOMG I'm so glad hey guysss <333
_________________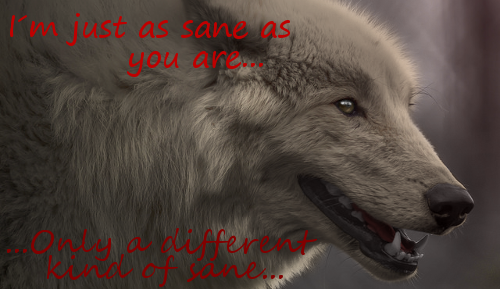 Avatar by me



Posts

: 1511


Join date

: 2014-03-23


Age

: 22

Character sheet
Name: Jeamesero
Gender: Male
Rank: Tracker/Crazy Suggestion Bomber!


Yyyyyyyaaaaaaayyyyyyyy~ we can get on again~ hi bb's me missed you soooo much. <<<33333333



Posts

: 96


Join date

: 2015-02-03


Location

: Don't you wish you knew~ ;)



Hm.
I've been busy. Really busy. It's gotten hard trying to balance my online life with my....well, not online life. Everytime I do get on, no one is on, and suddenly I have no motivation to write anything. I'm sorry.
_________________

My hearts been stolen by Mr.Grey



Posts

: 99


Join date

: 2014-10-12


Age

: 21


Location

: 2 ∞ & →

Character sheet
Name: Kanaya
Gender: Female
Rank: Omega



---
Permissions in this forum:
You
cannot
reply to topics in this forum